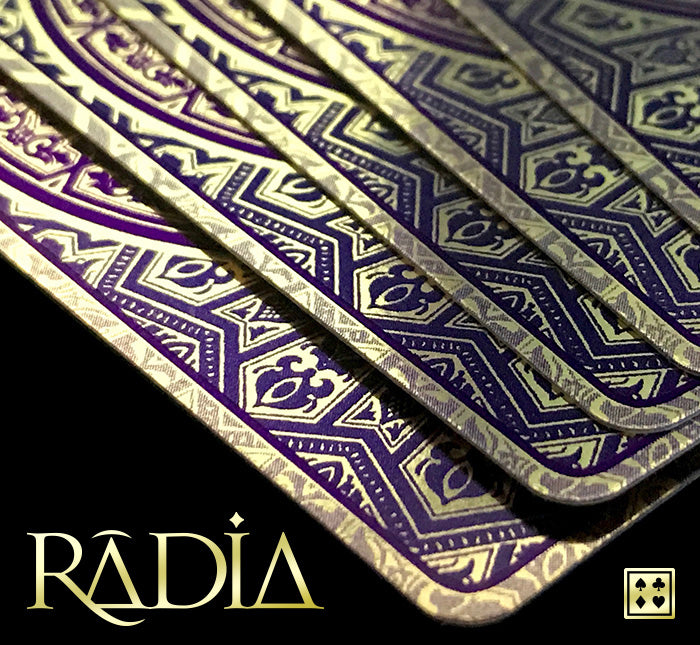 In 2012 I designed Aurum, the critical followup to Encarded's first deck, Tendril. Aurum was inspired by my travels to Italy and featured dramatic purple coloring, metallic inks, unique edge patterns and high detail. Over the years, Aurum has become a favorite of collectors and the ultra-limited Aurum Laser Cut decks routinely top the lists of most valuable modern decks.
Aurum has always been one of my personal favorites and I've wanted to make a deck that pays homage to it for a long time. For several years I've had a design motif in my files which I feel speaks beautifully...
---
After a number of years, Encarded.com was due for a freshening up, so we released a new website design today. Featuring nicer photography, slicker presentation of products and the shopping cart along with a better mobile layout, the site is ready for the upcoming preorder for Celestial. 
Be sure to follow/like us on social media and sign up for the email list using the link in the footer to make sure you get the latest news. 
---
The next Encarded playing card deck release is finally coming together, and it's called Celestial. Inspired by the beautiful astronomical instruments of ages long past, Celestial will be the first "red" deck from Encarded and as always will be fully custom and limited edition. 
While final numbers and details are not fully defined quite yet, we hope to produce a limited-run standard deck and a super-limited foil backed version for the serious collector. More details will come soon, but...
---
What happens when you take inspiration from a classic, engraved-style deck, mix it with the complete opposite style of an abstractionist painter like Kandinsky, and confine the design foundation to only use a pencil and a set of french curves? Well, I'd say the result can be quite interesting.

One of my favorite classic decks is the red Aristocrat. I've had one on my "favorites" shelf since I began collecting cards and I've always loved the detail of the lines, coupled with the simplicity of just white lines on a single color. There is a purity to having a single color back,...
---
Following up Zenith, the first deck in the Signature Series from Encarded, wasn't easy. Zenith was the first independently designed deck to be printed by the Expert Playing Card Company, sold out in about a day and has skyrocketed in value. I knew that it would take something special to be a worthy successor, so I've spent the last 4 months carefully crafting Chancellor.
This deck was inspired by a small part of a nearly century-old deck that I have, and I expanded on that design while incorporated many of the design features that have been part of earlier Encarded...
---